welcome
The Market is Open and the Table Is Set
Provisions Market Table, located in the old Silk Mill in historic Orange, Virginia, is for people who love to eat and drink, cook, and entertain. The Market is chock full of treasures with a pantry full of ingredients that chefs prize and home cooks seek. The Table is for friends and family to enjoy chef-created, scratch-made, farm-fresh, seasonal meals.
Take a seat at the table. Call 540-308-7604 to make a reservation. Or place a to-go or curbside pick up order from the restaurant or market online or by phone.
Safety First
During this difficult time, safety is our primary concern. In response to the COVID-19 pandemic, we strictly adhere to social distancing and sanitizing requirements.
Make Your Event Special
Provisions Market Table offers catering services for events, small and large. Please contact us to discuss your needs.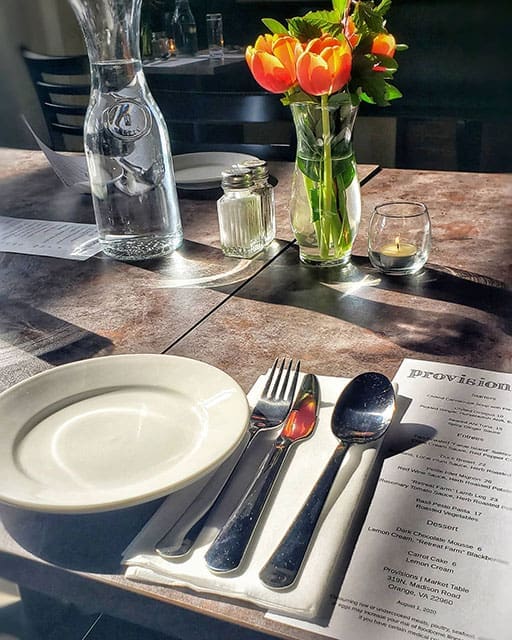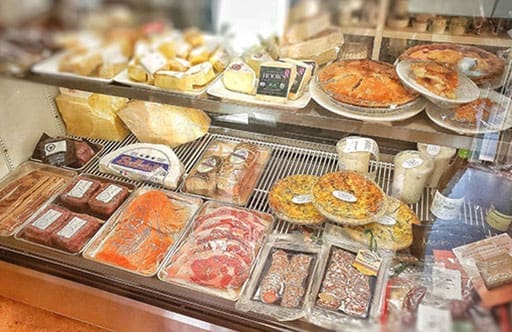 "Will be back again for more yumminess!"
"I needed a quick lunch today and called and placed an order with Aly (super friendly) over the phone (website also). Chef Cooper was finishing up my to-go food as I walked up to the counter. I had the soft shell crab and German potato salad. It was devine! I loved the aioli sauce, the bun … the crab was so good and huge! Will be back again for more yumminess!"
"The burger was amazing."
"I had a Saturday burger with potato salad and they were so nice to deliver it right next door. The burger was amazing. So soft and with a perfect fresh taste. I'm happy to support straight from farm to table. Such a great idea for Orange. Can't wait to try the rest of the menu and the Market items to go such as chicken salad and mini honeys. Thank you, Chef, for personally delivering."
"So glad to have this amazing resource."
"Right on time for these crazy times! So far, we've picked up take-out dinners, eggs, fish, steak, paper towels, a chicken, salmon, wine, cheese, a baguette (oh yeah), Provisions seed crackers (OMG)… Everything is top-notch quality. Great curb service too. Call for the latest and freshest daily offerings. It's easy and you won't be disappointed. So glad to have this amazing resource. Thanks, Provisions!"
"This is the best restaurant in Orange."
"This is the best restaurant in Orange. The atmosphere is quiet, but sophisticated. The staff is kind and attentive and their food is superb…I highly recommend this restaurant to anyone but particularly people looking for a nice date location. We didn't have any drinks, but the wine list looked good. The price was a steal for the amount and quality of the food."
Join Our Email List
Find out about specials and upcoming events.